The Day of the DaSH – livestreaming Science Adventure Visual Novels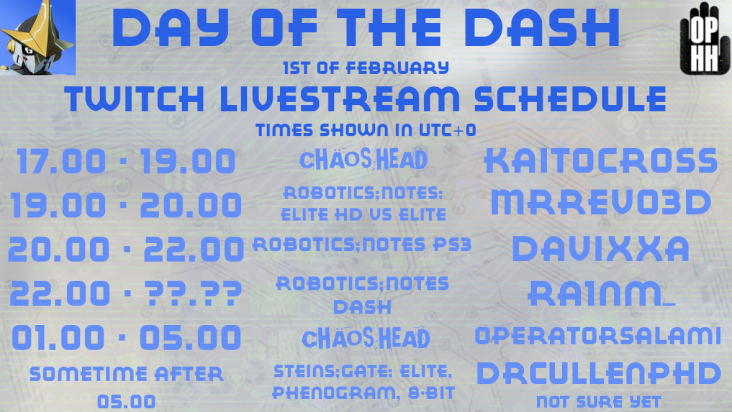 Hey everybody! I had an idea recently and am making it real. Friday, the 1st of February. The Day of the DaSH (name subject to change) On that day, we'll raise awareness for Science Adventure through and on livestreaming platforms. Focus is to get people hyped for Science Adventure in general, but in specific Robotics;Notes (DaSH)

We have gathered a few enthusiasts which will be livestreaming Science Adventure from 5pm to 5am (UTC+0)

Feel free to watch us and chat with us! We love to get to know other SciADV enthusiasts.

その目だれの目?

Here is the streaming schedule!

TIMES SHOWN IN UTC+0 (Greenwich Mean Time)

Previous chapters of ChäoS;HEAd are on this YouTube Playlist.
You can find Ra1nm_'s recordings of Robotics;Notes DaSH on his Twitch channel